January 25th, 2016
Many years ago I was going through a difficult time and felt black and negative inside. So I took a piece of card and some oil pastels and just started coloring the card with them. I put a lot of energy into spreading the pastel around with my thumb, creating the texture in the sky and mountains. I used my nail to scratch and blend the ground. I kept working until I no longer felt negative, and was uplifted since now I had a nice picture as a result. It was a wonderful therapy.

February 25th, 2014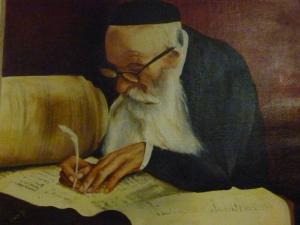 My Sofer painting was done in 1991. At the time, I had 3 children under the age of 4. I knew if I didn't have some creative outlet, I would not be a very happy mommy. So I arranged for all of them to be in one bedroom, which was big enough while they were small, and set up my easel and paints in the little box room where I could run in and paint while they napped, then leave and lock the door. One time I came upstairs just as my one year old was coming out of my studio. My heart skipped a beat. Had I forgotten to lock the door? The strength of my willpower was definitely being put to the test. There on my masterpiece were the sweeping black paint strokes of a child who'd discovered the delight of the paint and brush!

Sometimes your emotions can erupt inside and try to take over your body. Those who succumb, hear themselves saying the most horrible things to those they love. I was not about to let that happen. He was my baby. He didn't know what he was doing. He didn't do it to hurt me. I calmed myself down, went to him, gently led him into the room by the hand, asked him if he'd done it, and told him he mustn't touch mommy's paints.

Then I stared at my painting. What could I do? It was supposed to be white and now it was covered with black. If I decided to paint over it, I'd have to wait several days for it to dry. And then there would be these weird streaks under the paint where there was no other texture in the painting. I decided to try to wipe it off. As I did so, I had a brainstorm. The black now looked like a shadow being cast by the arm of the sofer. It was in the right place and actually created a depth I would not have otherwise included. I realized the skill of the artist is being able to turn a negative into a positive, to create something good. And this principle plays itself out not just on the canvas, but in all walks of life. We can be confronted with situations we were not prepared for. Our emotions will respond one way. But we can get them back under control by what we tell ourselves in that moment. When we realign ourselves, the creative process can take place.